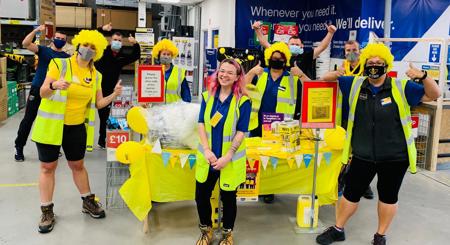 ---
Wickes-YoungMinds partnership
Wickes
---
Client: YoungMinds

Wickes is one of the largest suppliers of DIY and home improvement products.
Inspired by YoungMinds' vision of a world where no young person feels alone with their mental health, Wickes, who are proud of their own established colleague wellbeing work stream, chose to join forces with us because they recognise the importance of mental health at every age, and especially for young people.
The Wickes team are truly passionate in their support for YoungMinds. They are fully aware that now, more than ever, young people need the amazing help the charity offers.
The partnership with Wickes has continued to succeed throughout 2022 Whether its Wickes stores breaking 50p records (where Wickes customers can donate 50p to YoungMinds with their purchase) staff paddling the Thames or throwing excellent golf days. Wickes staff love to wear yellow and celebrate all things YoungMinds.
We are in the final weeks of our partnership, but the impact Wickes has had for YoungMinds transcends and Wickes are more determined than ever to do all they can to support young people's mental health and to ultimately show them that they are not alone.