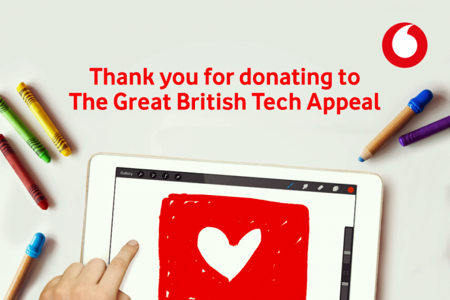 ---
VODAFONE AND BARNARDO'S: #KEEPCONNECTED
Vodafone UK
---
Agency: Charity partner: Barnardo's

Being able to stay connected to our family, friends, education and support services has never been so vital.
When COVID-19 struck, daily routines and provision of support services dramatically and suddenly changed.
For the majority of us face-to-face interactions have been replaced by remote connections, highlighting the essential role of digital technology in keeping people connected and the extent of the digital divide across the UK.
As part of Vodafone UK's #KeepConnected campaign they have been supporting Barnardo's and the children we support stay connected via two campaigns;
- The Great British Tech Appeal (GBTA): directly tackling the digital divide, providing pre-loved donated devices, along with connectivity to those otherwise unconnected. So far we have supported almost 3,000 people and plan to continue this campaign long-term.
- #ConnectTheMagic: raising vital funds and awareness for Barnardo's festive 'Kidsmas' campaign, through the development of our first ever live-streamed fundraising event 'Kidsmas Live' and their 'Light Up' campaign, contributing to a 164% increase in funds raised by the campaign compared to 2019.
Vodafone UK has played a vital role bringing a smile and support to thousands of children and their families across the UK, keeping us all connected when we needed it most.