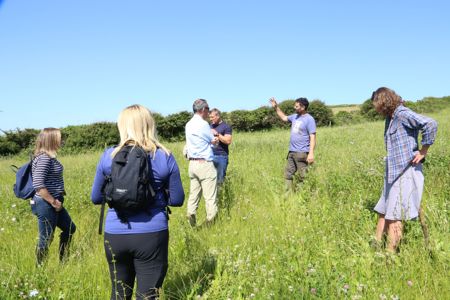 ---
Upstream Thinking
South West Water
---
Client: Devon Wildlife Trust, Cornwall Wildlife Trust, Westcountry Rivers Trust, South West Lakes and Farming and Wildlife Advisory Group South West

Upstream Thinking is a £9m partnership project funded by South West Water to improve water quality. Started in 2009, it has 8 partners, including 5 charity partners.
Upstream Thinking partners look at how land is managed and works with farmers and landowners to protect our rivers by keeping unwanted things like pesticides and slurry out of the water.
To date Upstream Thinking has been responsible for support, advice and active management for over 100,000 hectares of land, restoring over 3,200 hectares of peatland, and since 2020 planting 100,000 trees.
Tree planting creates buffers and slows water flow, creating ponds/wetlands filters and cleans water before it reaches the watercourse, soil nutrient management improves soil quality, which reduces the need for pesticides and reduces run-off of existing pesticides into rivers and streams.
The project also provides capital grants to make changes such as covering and improving slurry stores to reduce run-off of slurry into watercourses and provides volunteers to help with practical tasks.
The project helps to reduce carbon emissions, restores ecosystems that support the recovery of associated wildlife and their habitats, improves the quality and quantity of water leaving the land, connects people with nature and provides essential support to farmers.