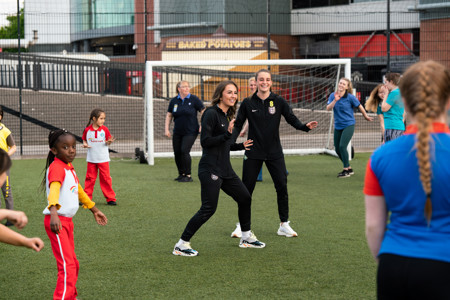 ---
UEFA Women's EURO 2022 and Girlguiding Charity partnership
The FA
---
Client: Girlguiding

Girlguiding, the UK's leading charity for girls and young women, teamed up with The FA, the football association that's for all, to celebrate the UEFA Women's EURO 2022. Our research shows that under half of girls aged 7-17 believe they've had equal opportunities to play football. This partnership allowed us to challenge gender stereotypes and inspire more girls and young women to enjoy the game.
As a result, over 5,000 Girlguiding girls attended tournament games with discounted tickets and 72 were given the once in a lifetime opportunity to be flag bearers. Our aim was to encourage girls' and young women's interest in football – and thanks to this collaboration, locally 40,000 girls took part in some form of a football activity, while more than 1 in every 100 spectators at each group stage match was a Girlguiding member.
Both The FA and Girlguiding are committed to equal opportunities and inclusivity in sport. This event became the biggest women's sporting event in European history and was an incredible opportunity to show girls that they can do anything. But this is just the beginning, the start of a legacy of smashing gender stereotypes and breaking down barriers to girls engaging with football.