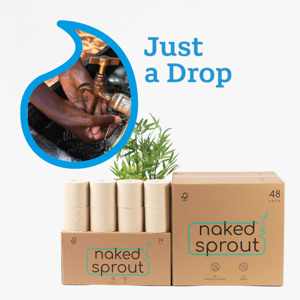 ---
Transforming Lives with Safe Water and Sustainable Toilet Rolls
Naked Sprout
---
Client: Just a Drop

Naked Sprout, the UK's most sustainable toilet roll, partnered with international safe water and hygiene charity Just a Drop at the start of the pandemic in 2020. It's a partnership which not only makes sense and is relevant, but is achieving a huge impact across the world.
The company was founded on clear principles, that small changes can make a big difference and that their business can help protect the planet and inspire change. For each box of toilet rolls sold, 50p is donated to Just a Drop. The partnership is an integral part of their brand identity and adds to the value customers put on their products.
The real proof the partnership's success is the impact achieved. Naked Sprout's donations crucially support Just a Drop's core hygiene work, which last year reached 216,000 people. Children like Raksha have running water in their homes for the first time in their lives, which is a huge achievement, clearly demonstrating impact – and what a start-up, with a clear sense of business ethics can achieve. Indeed, Naked Sprout has recently received B Corp status and its partnership with Just a Drop goes from strength to strength.