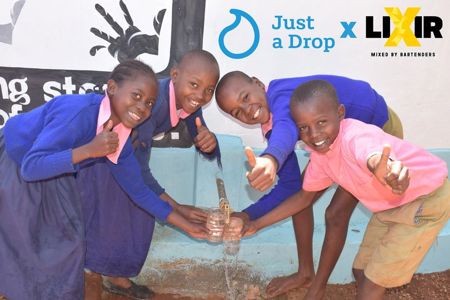 ---
Tonic water for safe water: Just a Drop & Lixir Drinks Partnership
Lixir Drinks
---
Client: Just a Drop

The partnership between Lixir Drinks and Just a Drop was established thanks to the visionary young business people behind the Lixir brand, who understand the need for and the value of having charity support and sound ethics at the heart of their business.
As a premium tonic water and mixer brand, Lixir Drinks is committed to leaving the planet in a better way than when they found it and the business is built on three pillars that are integral to every element of their operations: People, Planet and Product.
The partnership with international safe water charity Just a Drop is therefore very relevant, whose work fits seamlessly into the pillars. Lixir donate 1% of their annual revenue to Just a Drop, equating to a minimum of 100 litres of clean drinking water donated for every case of Lixir sold.
With the donations received, Just a Drop is delivering a project at Mwania Primary School in Kenya, where the children who attend will have access to safe water all year round, through a rain water harvesting tank which is being built – tangible impact.
This resonates hugely with Lixir's customers, who clearly value the impact the brand is achieving.