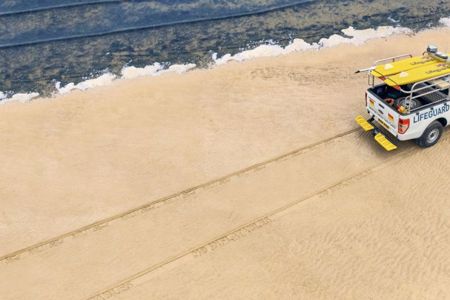 ---
TIDE TRACKS
Ford of Britain
---
Agency: Charity partner: RNLI

Ford is the official vehicle supplier to the RNLI, which includes the Ford Ranger that supports the RNLI Lifeguard's across UK Beaches. Beyond this relationship Ford were also in a great position to help the RNLI spread their life-saving water safety messages. This was of particular importance in summer 2020 with beaches at bursting point in the wake of COVID.
The Tide Tracks campaign was created. Specially engineered tyres were developed to fit the RNLI Ford Ranger and print water safety messages in the sand. It was then filmed and the messages spread across social media.
To deliver this at the height of summer a number of film production challenges had to be overcome, including alignment with tide times, the weather and COVID protocols. Despite all this, in just two months the team produced a social campaign consisting of 20+ videos that carried the RNLI's key messages to new audiences.
It wasn't just delivered in record time: it was noticed, with 44m impressions, 17.6m views of the videos and an eared reach of 5.8m. The reaction from RNLI fans was heart-warming with over 15,000 engagements and praise the for idea and its importance.
Together RNLI and Ford spread the word.