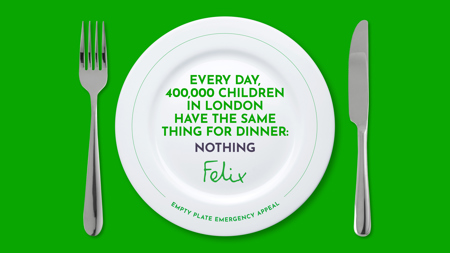 ---
The Empty Plate Emergency Appeal
The Maverick Group
---
Client: The Felix Project

Over 400,000 children in London go without a meal every day. This terrible truth was going to get worse with The Cost of Living Crisis, so The Felix Project, one of London's leading food poverty charities, needed to raise funds and feed families fast. Along with their pro bono advertising partner, The Maverick Group – The Empty Plate Project was created and launched. An emergency appeal to raise awareness of how many families go without a meal, while raising funds to deliver those free meals.
With a powerful symbol at its core – the empty plate many would stare at – the campaign sought to raise 1 million meals for London's hungry. The results far surpassed that. With support from the agency, plus celebrities like Fearne Cotton & Jamie Oliver, and corporates like Mulberry and Abel & Cole to name a few, the campaign not only lit up social media, but found its way across platforms like London Live and onto the iconic Piccadilly Lights.
Within 5 weeks it had already reached its target. And today has raised over £525,000 delivering a ROI of £22.47 for every £1 spent but, most importantly, putting food onto 2,350,000 previously empty plates for Londoners in need.