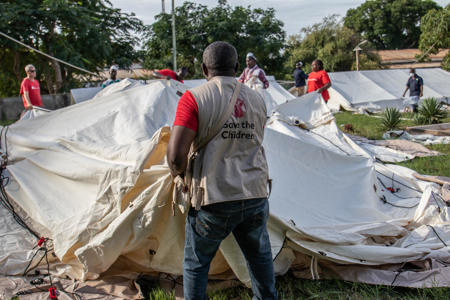 ---
The Emergency Health Unit: transforming Save the Children's emergency responses to rapidly deploy teams in humanitarian crises and offer immediate and life-saving treatment for children
GSK
---
Client: Save the Children UK

GSK and Save the Children joined forces since 2013 to strengthen health systems and respond rapidly to global humanitarian crisis. Together we responded to hundreds of emergencies and helped build the capacity of Save the Children's Emergency Health Unit (EHU), a mechanism that allows to have supplies, logistics experts, skilled surgeons, doctors and nurses ready to send anywhere in the world in the event of a major disaster or conflict.
GSK has provided critical seed-funding and contributed over £2.6m to help build the EHU's capability to rapidly deploy teams in over 40 humanitarian crises, offer immediate and life-saving treatment for children and has led to considerable investments from various funders to support EHU responses. For seven years of support, the EHU has deployed more than 40 times, reached more than 4,000,000 people and trained more than 10,000 health workers.
In 2021 GSK further scaled up their support of the EHU and Save the Children's humanitarian response efforts, investing £1M to support the development of anticipatory action mechanisms, tools and procedures that will better prepare communities for the impact of climate disasters. This work will allow us to save more lives, reduce human suffering, and offset some economic impacts of emergencies.