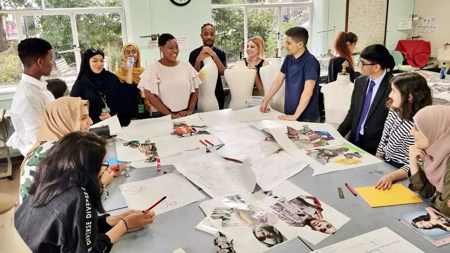 ---
The Burberry Foundation, Teach First and the Careers and Enterprise Company
The Burberry Foundation
---
Client: Teach First and the Careers and Enterprise Company

In a partnership spanning five years, The Burberry Foundation, Teach First and the Careers and Enterprise Company have implemented a programme focused on supporting young people in disadvantaged communities across Yorkshire and the Humber. The programme is part of Burberry's five-year strategy set in 2017 to "positively impact one million people" in communities that sustain the luxury fashion industry.
Yorkshire and the Humber is an important region for Burberry with its iconic Burberry trench coat manufactured in Castleford using material produced at the Burberry Mill in Keighley. The region is also known as having some of the lowest levels of social mobility in the UK, with access to opportunities and career advice for young people being very limited.
The programme focussed on inspiring and preparing young people for the world of work and raising awareness amongst teachers and students of the breadth of careers available in the creative industries.
In Yorkshire and the Humber, the partnership has reached over 90,000 students across 120 schools, trained 178 new teachers and placed Enterprise Coordinators and Advisers in more than 40 schools. Due to its success, the programme was rolled out to other regions across GB, reaching more than 300,000 students and teachers.