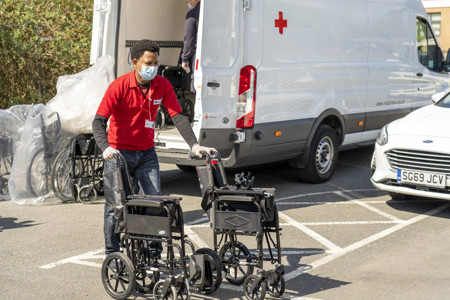 ---
Tesco and British Red Cross: Meeting communities' mobility needs in Tesco car parks
Tesco
---
Client: British Red Cross

For 15 years, Tesco and British Red Cross have been supporting vulnerable communities. Our partnership has been as vital as ever during the pandemic – and last April, we united once more to help people regain their independence after crisis.
We received insight from frontline response teams that mobility needs across the UK were rising, but critically many people were unable to access support. Particularly during the pandemic, the NHS has faced immense pressure, and communities have struggled to find urgent support locally.
So together, in partnership, we set out to make a difference.
Harnessing our organisations' expertise, resources and local presence in communities, we joined forces to develop an innovative community-based project. We launched 11 pop-up services in Tesco store car parks, providing 479 pieces of vital mobility equipment to 355 people.
Following a successful pilot phase, we are now expanding to 26 locations so we can reach more communities with unmet mobility needs. Through this project, we have been able to create a crucial impact on the ground, bring Tesco colleagues, customers, and communities closer to our partnership, and help achieve shared and mutually beneficial goals for both organisations.