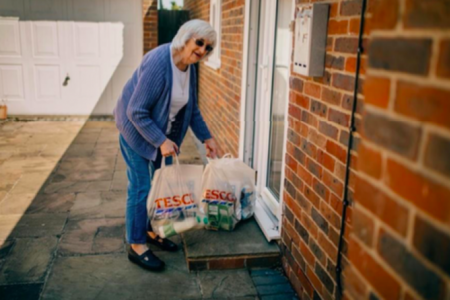 ---
TESCO AND BRITISH RED CROSS COVID-19 PARTNERSHIP
Tesco
---
Agency: Charity partner: British Red Cross

Faced with the largest global health emergency of our time, in March 2020 Tesco and British Red Cross built on our long history of supporting people in emergencies by uniting to tackle the coronavirus crisis. Quickly setting up a multi-faceted partnership aimed at supporting vulnerable UK communities, we used our unique position in the heart of communities to help thousands of people and customers cope with the evolving challenges of the pandemic.
With a £2m donation, we strategically invested in British Red Cross projects focused on where the need was greatest. Together we have helped people receive emotional and practical support through a coronavirus support line, and ensured people stay safe and well at home through provision of essential food and supplies. We have also helped people regain their independence through funding mobility aids, and built community resilience through funding critical educational resources.
We harnessed Tesco's resources and expertise to strengthen British Red Cross coronavirus response. From enabling British Red Cross priority access to stores when shopping for vulnerable customers, to tackling digital exclusion amongst refugees through donating mobile devices, to promoting the support line to over 5m Tesco customers, our partnership has provided support to thousands of vulnerable communities.