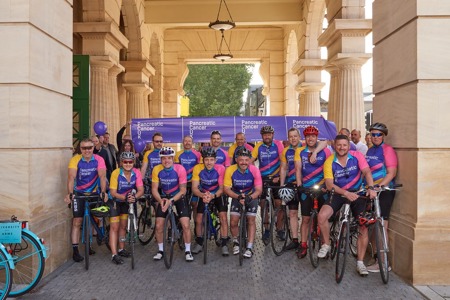 ---
Team Aviva and friends fundraising for Rutty and Paula
Aviva
---
Client: Pancreatic Cancer UK

In the Summer of 2019, our much-loved colleague and Liverpool fan Paul "Rutty" Routledge was diagnosed with Pancreatic Cancer. Throughout his illness and ongoing treatment, Rutty showed incredible strength, determination and positivity. An inspiration to us all. This inspired his friends and colleagues to do something tangible and show our support for him and his family. We wanted them all to know we were there for them, all the way.
Tragically, just as we were starting to formulate a plan, in December 2020 Rutty died.
Throughout 2021 his friends and colleagues came together, not only in memory of himself but another of our team, Paula, who we lost to Pancreatic cancer 5 years earlier. Together we participated in a program of fund-raising events from virtual walks to a 220-mile bike ride and a pub quiz to a touch of purple hosted event, to raise a stretching target of £30,000.
In total we raised a staggering £91,000 for PCUK and we wanted to share with you our story of how this galvanised an organisation and an industry to raise money for our much-loved friends and colleagues and show our admiration and support for their families