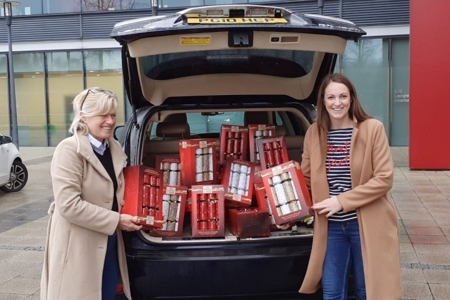 ---
SUPPORTING BERKSHIRE COMMUNITY FOUNDATION IN RAPIDLY MEETING URGENT COMMUNITY NEEDS DURING THE COVID-19 CRISIS
Reckitt Benckiser (RB)
---
Agency: Charity partner: Berkshire Community Foundation

International health, hygiene and nutrition consumer goods company Reckitt Benckiser (RB) has collaborated with BCF since 2019 to support the most vulnerable in Berkshire, where its Global headquarters are located.
With the onset of the COVID-19 pandemic in 2020, RB ramped up its philanthropic response, working with BCF to maximise the impact of its contributions. Through BCF, RB awarded over £870,000, more than 40 times its previous annual contribution of £20,000. These funds were distributed to 32 charities and volunteer groups running 52 projects to address needs thrown up by the pandemic. More than 36,000 people benefited
In addition, RB staff contributed 176 volunteer hours to nine organisations providing vital services to the local community. These philanthropic contributions focused on three main areas:
-Advancing people's physical and mental health, wellbeing and safety
-Improving life skills, education, employability and enterprise
-Promoting the reduction of isolation and disadvantage, and improving access to local services
RB also conducted a fundraising and volunteering drive to support BCF's Christmas Appeal, bringing Christmas magic to those in need. 210 members of staff helped to raise over £10,000 (in addition to donations of festive gifts and goodies) for nine charities, in a year of unprecedented hardship.