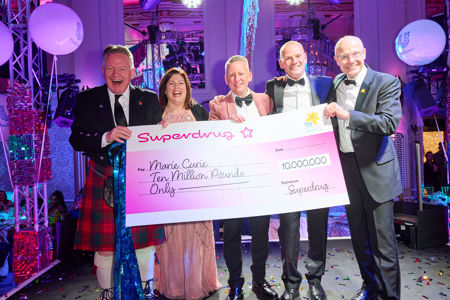 ---
Superdrug, Savers & Marie Curie
Superdrug & Savers
---
Client: Marie Curie

As a partnership, we have achieved so many amazing things over the last 10 years and are delighted that our current partnership total stands at a phenomenal £10.5 million, raising an incredible £1.06 million in 2022, £50k above target. What began as a traditional COTY has developed into a transformational partnership that delivers Marie Curie's vision for a society where everyone gets the best possible end-of-life experience.
Our partnership was renewed for an additional two years in January 2020 with a further one-year extension in 2022, and this has enabled us to recognise our organisations' shared purpose of encouraging people to lead the life they want, right to the end.
Although so much has been achieved since 2013, Superdrug and Savers' commitment to Marie Curie shows no sign of fading. In January 2023 we launched our new 2023 partnership strategy and mission:
A sector-leading partnership focused on raising £1 million for Marie Curie in 2023 whilst also supporting colleagues and customers with the goal to reach everyone, everywhere at the end of life.