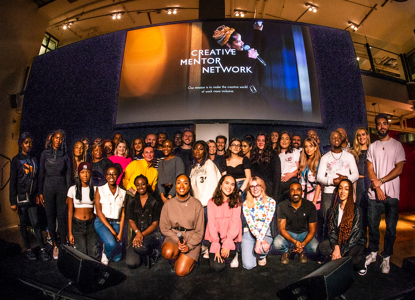 ---
Sony Music Positive Influence
Sony Music Entertainment UK
---
Client: Creative Mentor Network

Positive Influence is a pioneering talent and inclusion programme run by Sony Music UK in partnership with the UK charity Creative Mentor Network (CMN). Since its inception, Positive Influence has grown to include Sony Publishing, Sony Playstation and Sony Pictures.
Creative Mentor Network aims to make the creative world of work more inclusive through mentoring. Sony Music UK works with them to support young people from the Creative Mentor Network community who may otherwise not have the opportunity to enter the creative industry due to socioeconomic barriers. The young people are partnered with mentors, who receive training on social justice, challenges of the creative labour market, growing professional networks and providing 1-1 support to help map and plan young creatives' professional goals.
Since 2018 Sony Music UK and CMN have run four six-month programmes, working with 105 mentors and 105 mentees.
The programme gives young people the change to develop new skills, experience the music industry and build connections whilsting supporting the development of inclusive leaders and diversity advocates in the industry. Positive Influence shows that companies can make social change and positively impact society by partnering with charitable organisations to build an inclusive and diverse industry.