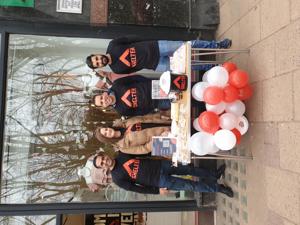 ---
Societe Generale and Shelter partnership
Societe Generale
---
Client: Shelter

In 2021, Societe Generale and Shelter partnered for a three-year strategic partnership to break down barriers to employment by funding the expansion of the charity's Getting Real Opportunities of Work (GROW) programme. Aligned with Societe Generale's CSR strategy to ensure that everyone should have equal access to career opportunities, and thus reach their full potential, GROW traineeships help people with lived experience of homelessness and other disadvantages overcome barriers to employment.
By accessing 12-months paid employment across Shelter, GROW trainees receive the career, training and personal development opportunities they need to secure onward meaningful employment and move on from homelessness for good. Trainees are also empowered to use their unique knowledge and skills to tackle the housing emergency by shaping Shelter's services and campaigns, and supporting others affected by homelessness to find and keep a safe home.
Societe Generale's enhanced employee fundraising and volunteering programme has surpassed its initial target for the first 18 months by 68%, raising over £630,000. As a result, they have increased their commitment from funding 15 trainees to 20 GROW trainees, achieving the partnership's aim of empowering people to overcome barriers to employment, reach their full potential and turn their lives around after homelessness.