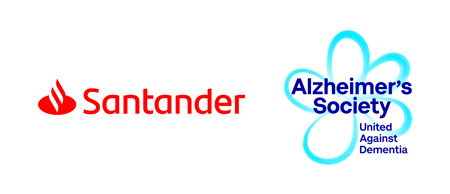 ---
Santander UK & Alzheimer's Society Strategic Change Partnership
Santander UK
---
Client: Alzheimer's Society

Alzheimer's Society and Santander launched and held a unique sector-leading strategic partnership which has sought to create collaborative social change for people affected by dementia relating to banking challenges and donated £3.6million (£2.1million though staff fundraising) over the course of 3 years. This incredible amount has gone directly to support people affected by dementia (PABD) and research.
Through the determination to make a genuine difference, the partnership had 3 clear objectives: Providing the best support for customers affected by dementia, creating sustainable change within Santander for its employees, (focusing on wellbeing and awareness on dementia) and maximising Santander's positive impact in communities. Each objective involved various strategic initiatives, many of which were co-produced with PABD ensuring our partnership was influenced by lived experience.
This successful partnership has seen the creation of several sustainable dementia friendly initiatives imbedded in Santander that not only support customers (e.g. customer facing Dementia Guide) but also the workforce (e.g. Carers Card, Working Carers Guidance) in place to support Santander employees who are also caring. These objectives are embedded into Santander's Sustainability and CSR Strategy to create a better world and help people and businesses prosper.