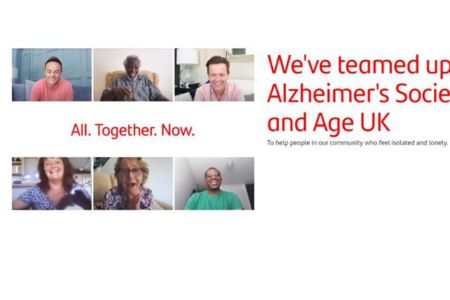 ---
SANTANDER'S COVID-19 RESPONSE CAMPAIGN (QUARANTEA)
Santander UK and Santander UK Foundation
---
Agency: Charity partner: Alzheimer's Society/Age UK

The pandemic has hit older, vulnerable people the hardest, with a dramatic impact on their wellbeing. Over six million older people have said they felt lonely. Plus, 78% of people affected by dementia said the pandemic made them feel more isolated than before. Santander UK were determined to help, so teamed up with Alzheimer's Society and Age UK to create their Covid-19 response campaign alongside a £3million donation.
A focal point of the campaign was the internal volunteering programme, QuaranTea, aimed at mobilising 1,000 employees to volunteer and help alleviate social isolation.
The Santander UK Foundation donated £1,000 on behalf of every Santander employee who volunteered, up to £1million (part of the £3million donation). Santander's ambassadors, Ant and Dec, fronted the campaign, both internally and externally in Santander's most successful TV advert raising awareness of social isolation. This was the highest rated Covid-19 advert from any UK advertiser.
After two weeks, the original target was surpassed and after eight months, over 3,500 employees were volunteering.
This multifaceted campaign aligned with Santander's Covid-19 response plan and sustainability strategy. It addressed the challenges of social isolation from every angle, with vital donations, frontline volunteers, and awareness raising of the issue.