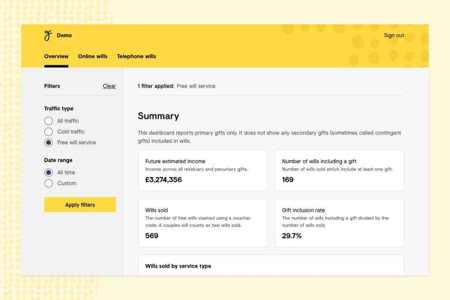 ---
Revolutionising Legacy Giving
Farewill
---
Client: Macmillan Cancer Support

Farewill is on a mission to make everything to do with death simpler, faster and fairer – from wills and probate to cremation and funeral plans.
One of the ways we're doing this is by partnering with charities so they can offer free Farewill wills, giving their supporters an easy, optional way to give a gift to the charity of their choice.
We've built a bespoke online will-writing journey for each charity we work with, and a data dashboard that provides deep insights from legacy fundraising (gifts in wills) campaigns much more quickly than the traditional model allows. Since we launched our digital innovation in 2017 we've iterated it every year to optimise the data insights it brings our partners.
We partnered with 100+ more charities in 2021, bringing our total to 245+. Since 2016 we've seen over £500 million in pledged donations, with £160 million of that in the past 12 months. Those pledges represent future estimated income that charities are likely to receive when wills come into effect.
Over the next 30 years £5.5 trillion is set to be inherited. We're making the most of our digital innovation to help charities be part of that wealth transfer.