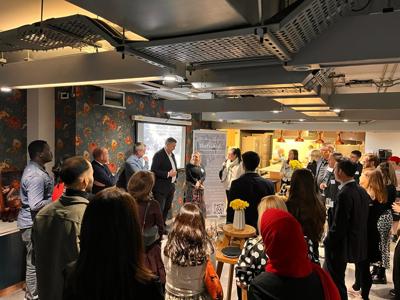 ---
RefuAid Business Consortium
EnterpriseAlumni
---
Client: RefuAid

In March 2022, in response to the invasion of Ukraine, Emma Sinclair of EnterpriseAlumni launched a business consortium in collaboration with RefuAid, an organisation supporting refugees in the UK to build independent and dignified lives through language, education and employment.
The consortium convenes a number of leading UK-based businesses from multiple sectors who were keen to support people from a displaced background, including those arriving from Ukraine. Businesses involved include PwC, BP, Dunelm, Kier, AerFin, Page Group, Portman Dental, FDM Group, Telus, Persimmon Homes, OVO Energy, Mulberry, Gousto, Gleeds, Finncap, Currys, Robert Walters and Allen & Overy.
Each business sponsored up to 50 people to be supported through RefuAid's programmes, including language tuition, professional requalification and access to meaningful employment commensurate with each individual's skills, experiences and qualifications. Since launching, the consortium has enabled over 530 people to learn English and resulted in over 110 individuals being placed into roles that reflect their experience and expertise.
With the number of forcibly displaced people around the world now exceeding 89 million, this consortium demonstrates the huge impact that businesses and charities can have in improving the lives of those who have had to rebuild their lives after facing war and persecution.