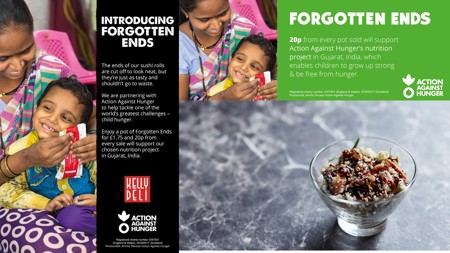 ---
Reducing Food Waste whilst Transforming Lives with Forgotten Ends
KellyDeli Company Ltd
---
Client: Action Against Hunger

Action Against Hunger and KellyDeli have been in partnership since 2020. In that short time, they have reduced 75 tonnes of food waste, which is equivalent to 11 elephants, and saved 210 tonnes of carbon emissions! They have also raised £100,350 which has improved the health and nutrition of 9,400 children under six, in India.
The partnership tackles a significant problem with food waste, when the ends of sushi rolls pressed out and discarded for aesthetic reasons, now have been turned into a delicious 'Forgotten Ends' snack. It is sold in major supermarkets nationwide and the proceeds, go to address serious malnutrition in Gujarat State, India, where there is a significant stunting and wasting problem.
The Partnership is fully aligned with KellyDeli's business objectives with further ambitious targets to be revealed in 2022. Internally its network of champions is going from strength to strength with the introduction of a Charity Change Gang across twelve territories who lead year-round fundraising activities. In total, KellyDeli raised over £250,000 for Action Against Hunger positively impacting the lives of 23,419 lives.