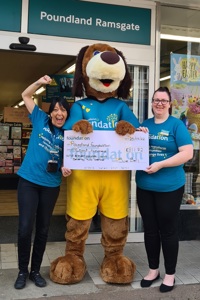 ---
Poundland with Make A Wish UK, Tommy's and Whizz Kidz
Poundland
---
Client: Make-A-Wish UK, Tommy's and Whizz-Kidz

#Proudland is a partnership between Poundland, and Make-A-WishUK, Tommy's and Whizz-Kidz. Launched in October 2017, our partnership exceeded its initial aim to change 10,000 families' lives within three years.
£3million was raised in 2.5 years, and our partnership has been extended for two years to September 2022. The current total raised is over £5m with over 17,000 families' lives changed. #Proudland is a culture of pride that exploded within Poundland. Pride in working with a growing retailer, and working alongside colleagues who go the extra mile. The principle of supporting children and their families unites us all.
In every community with a Poundland store, there are families who have received support from our partnership, or are eligible for support.
This partnership is innovative, and unique to the sector. We created a different way of working, with brand values bespoke to our partnership. Our mantra is: when one of us wins, we all win.
This has been achieved during the most challenging retail environment. As stores close and scale back their CSR commitments, Poundland has stepped up; fundraising more than ever before. Poundland has galvanised its commitment to its charity partners and communities by launching the Poundland Foundation in May 2021.