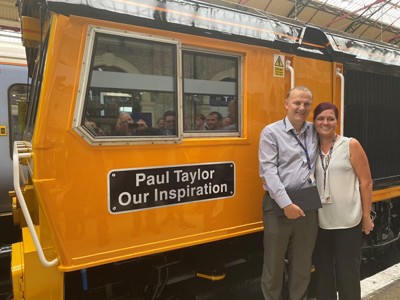 ---
Paul Taylor
GB Railfreight
---
Client: Prostate Cancer UK

Since 2020, GB Railfreight employee Paul Taylor has been the driving force behind the Prostate Cancer UK charity partnership. Working closely with employees, the partnership delivered innovative and attention-grabbing partnership moments, such as rebranding a GBRf locomotive with a Prostate Cancer UK livery and hosting a vintage rail tour for over 450 railway enthusiasts to help raise awareness of the most common cancer in men.
Paul was inspired to take the partnership to new heights following his diagnosis with advanced prostate cancer in 2019. His efforts have inspired over £150,000 of fundraising and helped Prostate Cancer UK reach a heavily male dominated sector with vital awareness messaging. Paul's honest and direct approach to sharing his own story helped the charity reach his colleagues, loyal social media following and railway enthusiasts and encourage them to take action.
Thanks to Paul's hard work organising a 4-day charity railtour, Prostate Cancer UK was able to distribute hundreds of prostate information guides and give passengers the opportunity to speak to trained volunteers about their risk and ask questions. The partnership will be building on its incredible success into 2022 with an awareness roadshow to offices across the country to increase awareness of prostate cancer.