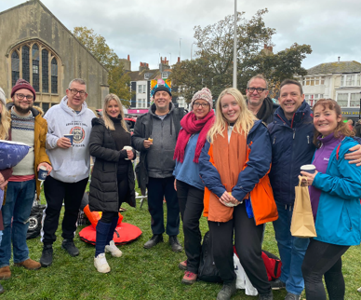 ---
Off The Fence: Gateway Women's Centre
Telefónica Tech UK&I
---
Client: Off The Fence

Off The Fence is a Homeless & Vulnerable Charity Restoring the lives and hopes of the homeless, women at risk and vulnerable school children in Brighton & Hove.
The mission of Off The Fence is to eradicate social and spiritual poverty in Brighton & Hove. The team engage with those who need them and those who want support bringing hope and transformation across the city.
The ambitious charity provides short and long-term solutions, through their two day centres, Gateway Women's centre and Anitfreeze, three outreach vans and 15 local schools. This work takes the support of just over 150 trained volunteers, staff and interns.
The theme of the charities we support is to help the most disadvantaged in society, such as homelessness, abuse and poverty. This has increased nationwide and the last 12 months has made the divide between rich and poor, wider and starker. The economic and social impact has been felt most by those least able to cope.
We have responded by boosting our efforts in every area of the charity to compensate for the additional numbers and areas of help needed, but it's had its challenges over the last year.