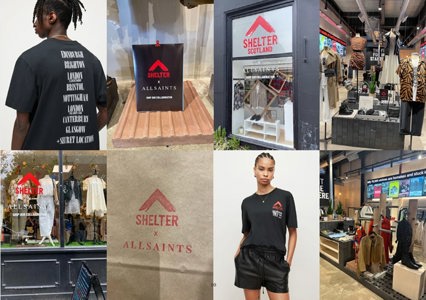 ---
No Ordinary Partnership
AllSaints
---
Client: Shelter

Together in No Ordinary Partnership, AllSaints and Shelter have developed a fashion industry-leading concept - the first of its kind in the UK.
By collaborating on a unique series of co-branded charity stores, we are simultaneously tackling the housing and homelessness emergency, whilst reducing waste within the garment industry.
In Spring and Autumn 2022, we launched our collaborations, which saw AllSaints donate thousands of items of clothing and accessories to be sold in Shelter stores, with 100% of the profits going to support Shelter's fight to end homelessness. This activity not only helped to raise vital funds for Shelter but also supported AllSaints' sustainability agenda, by reducing product waste.
Across 2022, we held 15 collaborations in Shelter stores. Each co-branded event increased the store's normal weekly sales by almost 300%; raising over £145k to support Shelter's work. Funds which could help Shelter answer over 5100 calls to our emergency helpline.
Thanks to our innovative partnership, Shelter stores have become a destination for second-hand – not second-best – fashion. Fashion that not only looks good but does good.