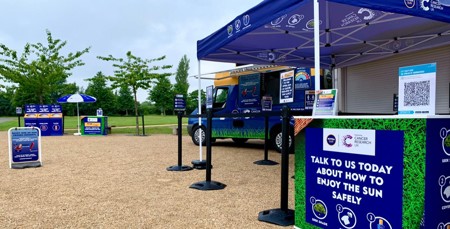 ---
NIVEA Sun and Cancer Research UK Sun Safety Campaign
Beiersdorf UK (NIVEA Sun)
---
Client: Cancer Research UK

Cancer Research UK (CRUK) and Beiersdorf UK Ltd (NIVEA Sun) have worked in partnership since 2012 to educate the UK public about being safe in the sun by promoting three vital sun-safety messages: seek shade, cover up and apply sunscreen.
Together, the organisations have annually run a fully integrated joint sun-safety campaign across NIVEA Sun's marketing channels (TV, in-store, social and PR) during the UK summer. In 2021, the campaign adapted to the challenges presented by COVID-19 and the shift to more people staycationing by creating the NIVEA Sun Safety Roadshow to take our educational sun-safety messaging out on the road via an experiential activation in the heart of the communities that need it most.
Over the last 10 years, using the reach of NIVEA Sun and the authority of the CRUK brand, the organisations have been able to successfully increase awareness among the UK public of how to protect themselves in the sun, building trust in NIVEA Sun and working towards CRUK's long-term objective of reducing rates of skin cancer.