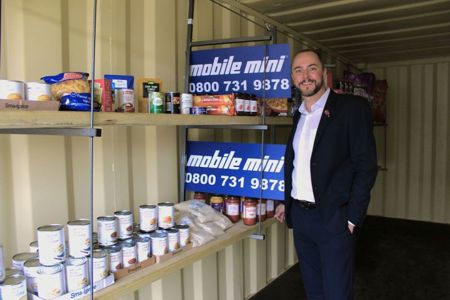 ---
MOBILE MINI MEALS
Mobile Mini UK
---
Agency: Charity partner: Harvey & Hugo Ltd

With the use of foodbanks continuing to rise across the UK, in 2020 we launched our charity pledge Mobile Mini Meals to support those in need in our communities.
The aim of the campaign was to fill a storage container at each of our 15 branches, as well as our corporate head office, with essential items to donate to each branch's local Trussell Trust foodbank. On top of approximately £15,000 worth of physical donations from team members, customers and the wider public, over £5,000 was raised through a JustGiving page, with contributions distributed evenly to all foodbanks.
The Mobile Mini Meals pledge was launched in early November, with containers filled and donated to the foodbank in time for Christmas, making sure families had plenty of food and essentials for the festive period.
On top of these donations, several foodbanks have also received a large storage container to store items as part of our Community Involvement Programme, which offers free hire for a period of six months.