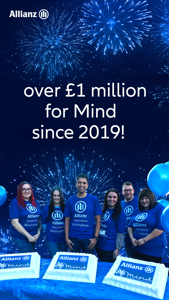 ---
Mind & Allianz charity partnership
Allianz UK
---
Client: Mind

In the summer of 2019, we asked all Allianz employees to vote for the charity partner that they wanted to support. The clear winner was Mind, and employees committed to raising £1 million between 2019 and 2022.
Raising £1 million in three years is no small task, but with the additional challenges that Covid brought, it quickly became more than just about the fundraising. The partnership played more of an important part of our employee experience than we had originally anticipated.
The focus on mental health at such a difficult time helped build a culture of openness and support - one without stigma. The partnership helped Allianz foster an environment where mental wellness and resilience was championed. We have over 190 fully trained mental health first aiders and a senior leadership team that understands and promotes the importance of good mental health and the steps to take to achieve this.
We smashed the target – raising £1.1 million before the three years ended. The partnership is unrestricted, meaning that Mind can spend the money raised in the way that they think that will be most valuable for mental health services. We are proud of the legacy we are leaving behind.