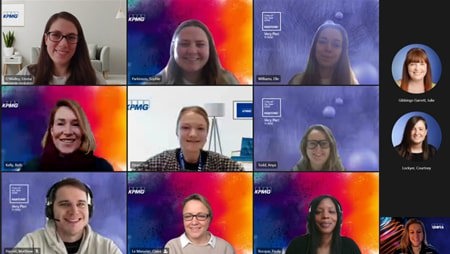 ---
KPMG Corporate Responsibility Team
KPMG
---
Our multi-award-winning CSR Team is comprised of 18 individuals using our skills and expertise to boost social mobility and drive sustainable environmental change, through convening, collaborating, research, pro-bono, and volunteering.
2022 Highlights:
Annual community investment totalled to £11.3 million.
Directly reached 64,837 people in 2022, taking our total reach since 2020 to 341,844, significantly exceeding our target of reaching 150,000 individuals by 2025.
41% (6,149) of colleagues volunteered in FY22, a 33% increase on FY21.
88 leading businesses committed to help close the nation's literacy gap since we established the Vision for Literacy Business Pledge (V4LBP) in 2015.
650,000 actions taken to improve numeracy skills since we co-founded National Numeracy Day in 2018 and 4,800 organisations supporting the campaign, a 70% increase on FY21. £480k+ donated to our national charity partner, Marie Curie, through activities that enable our colleagues to reconnect and boost their wellbeing. £220k+ raised via emergency appeals, including a six-point plan in response to the war in Ukraine and subsequent humanitarian crisis, spanning support for KPMG Ukraine colleagues and their families through to resettlement support.
Awarded an 'A' rating for our CDP Climate Change disclosure, placing us in the top 2% of 15,000 companies globally who responded.