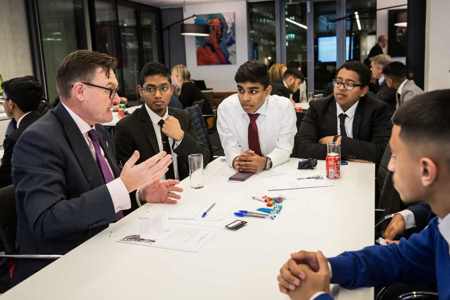 ---
Invest for Success
Investec
---
Client: Arrival Education

Invest for Success is delivered in partnership with Investec and education partner Arrival Education.
The programme engages 60 students from diverse schools across London, Liverpool and Leeds. Over the course of 5 months students form 12 teams of 5 pupils from the same school and come together to learn about the core principles of trading through a simulated stock portfolio game.
Each team is allocated a virtual fund worth £100,000 with which they purchase five initial stocks to create one investment portfolio. Across the duration of the programme students within each team will work collaboratively to choose trade shares via a bespoke trading portal in two week intervals. The winning team is the one with the highest value portfolio at the end of the 5 months, there are also prizes for the best presentation and best team spirit.
The key objective of the programme is to help students, many of whom are from a low socio-economic background, to learn the value of long term investing, teamwork and strategy skills which are valuable for their futures and a differentiator at interviews for further education or employment.