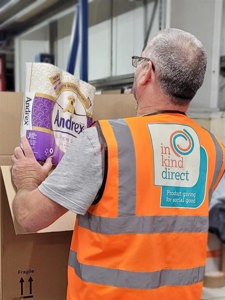 ---
Human Right to Hygiene
Kimberly-Clark UK
---
Client: In Kind Direct

In Kind Direct believe everyone deserves access to life's essentials and that no useable product should go to waste. That's why, for 25 years Kimberly-Clark have partnered with In Kind Direct to distribute donations of their well-known brands, Huggies, Kleenex and Andrex to a network of over 5,000 charitable organisations, community groups, foodbanks and schools.
These organisations support over 345,000 people each week on the frontline of their communities, including people experiencing financial hardship and find themselves in a cycle of hygiene poverty. They see first-hand how products can make a difference - they give someone a helping hand, get people back on their feet and can be the gateway to brighter futures.
Since 1998, the partnership with Kimberly Clark has supported over 6,700 charitable organisations with £8million worth of essential products, including Andrex toilet roll!
As the cost-of-living crisis worsened across the UK throughout 2022, Andrex and In Kind Direct shared a clear vision that no-one should have to choose between heating, eating and keeping clean.
Together, In Kind Direct and Kimberly-Clark aimed to provide short and long-term solutions to keep people clean, safe and well across three key pillars; Better Access, Better Clean, A Better Way.