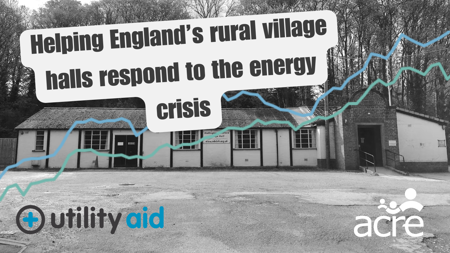 ---
Helping England's rural village halls respond to the energy crisis
Utility Aid
---
Client: Action with Communities in Rural (ACRE)

Over the past year ACRE, a national charity speaking up for and supporting rural communities and Utility Aid, the UK's largest energy broker for the not-for-profit sector, have been working together to help England's village halls respond to the energy crisis.
The organisations developed a deep understanding of how rising energy prices were creating financial pressures for these important rural community buildings from a jointly delivered survey which attracted nearly 900 responses over the summer of 2022. In response to the needs identified, approaches were made to halls that said they would welcome support managing their energy usage by Utility Aid. At the same time ACRE has used evidence from the survey to work through government, third sector and media contacts, pressing for greater financial support and specialist advice to be made available to those who manage community buildings.
To date, 148 halls have been supported to move to new energy tariffs giving them greater budgetary certainty. The government introduced an energy bills discount scheme for non-domestic consumers. And ACRE is now administering a £3 million grant fund for village hall improvements, to which 64% of applications submitted have been concerned with increasing energy efficiency.