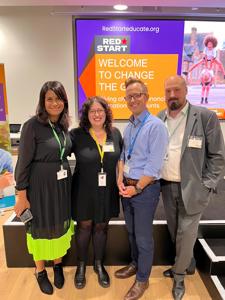 ---
Group Sustainability Team
Legal and General
---
Legal and General's approach to CSR for years was characterised by corporate philanthropy and a transactional approach to working with civil society organisations.
Resources were spread thinly across a laundry list of causes, little thought was given to how non-financial assets could be leveraged, measurement was focused on deliverables rather than outcomes, and there was no vision guiding long-term impact.
Evolution started in 2022 with the creation of a new CSR team. The list of causes was replaced with strategic drivers, which considered our strengths and goals as a business and the result has been a paradigm shift in focus and impact. We have a road map for partnering with civil society organisations, there's clarity of decision-making, and evaluation has gone from measuring activity to measuring positive change.
And our vision? To be chosen by future employees, customers, and investors because of our impact.
Achieving significant impact takes time, patience, and hard work, but we're pleased with year one's success: a new road map for developing and delivering partnerships with civil society, the first of a new breed of partnerships taking shape, and more than £1.7m invested in achieving impact.