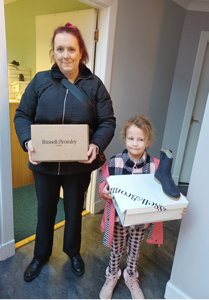 ---
Five Miles of Children's Shoes
Russell & Bromley
---
Client: Home-Start UK

This was an exciting, short-term partnership between British shoe retailer Russell & Bromley and national family support charity Home-Start UK.
Russell & Bromley donated more than 41,000 pairs of children's shoes, with very significant retail value, to families supported by Home-Start UK.
The majority were delivered to children across the UK within four weeks.
When laid from toe to heel, the shoes stretch more than five miles, the equivalent of a Mount Everest hike. Everyone rose to the challenge with impressive team work between Russell & Bromley staff, the Home-Start UK corporate team and our local Home-Start network.
And it's not just a pair of shoes … MP Jon Ashworth, Shadow Work and Pensions Minister and Home-Start Horizons patron said in a recent Home-Start UK interview: "The reason I'm as passionate as a politician and from personal experience, is the pressure of poverty. Nobody wants to go to school with holes in their shoes and feet soaking wet or turn up to school hungry – it haunts you for life." *
Jon's comments on the impact of poor shoes make us proud to have delivered such a significant project, so quickly, making a difference to the lives of thousands of children.