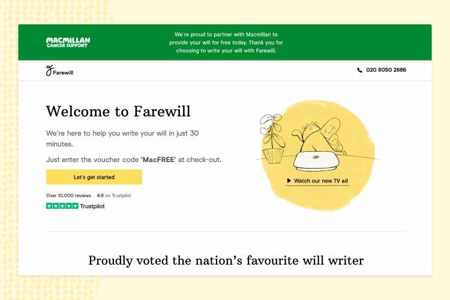 ---
Farewill & Macmillan Cancer Support Partnership
Farewill
---
Client: Macmillan Cancer Support

Farewill was created to make everything to do with death fairer and easier. From day one, it was obvious we needed the expertise of charities to make that happen.
We've been on an incredible journey with our charity partners, and Macmillan Cancer Support has been with us right from the start.
We've tested, developed and optimised valuable digital tools which have allowed thousands of people to plan for their death and support causes they care about.
The tailored online journeys we've developed with Macmillan mean charities can offer their supporters a will-writing experience that's meaningful to them. And our data dashboard provides a real-time, granular view of fundraising activity via Farewill wills.
So far, more than 10,000 Macmillan supporters have written a will with us, and Macmillan has seen over £55m in legacy pledges through Farewill.
Our partnership with Macmillan is also tackling taboos around cancer and death, through a series of guides we've created to help people have much-needed conversations.
Our work together is supporting Farewill's mission to change the way the world deals with death. And it's securing the essential long-term income that Macmillan needs to be able to help those living with cancer in the future.