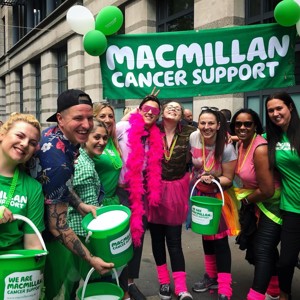 ---
Doing whatever it takes to help everyone living with cancer
Greene King
---
Client: Macmillan Cancer Support

Macmillan Cancer Support and Greene King have worked together in partnership since 2012, raising a wonderful £11m to date. We share the belief that every person diagnosed with cancer should receive the specialised personal nursing care they require.
For 10 years Greene King has funded Macmillan healthcare professionals and Macmillan nurses. We know that it is this vital one-to-one support from a dedicated cancer nurse that makes all the difference to people on their cancer journey. Cancer nurses can support each person, with their own needs, through the maze of health and care services.
Over the past decade our partnership has grown immensely to include raising awareness of cancer; to supporting employees with a cancer in the workplace programme. During the Covid-19 pandemic Greene King colleagues also volunteered their time as telephone buddies, providing weekly emotional support phone calls to those feeling isolated.
Despite the Covid-19 pandemic, necessitating pub closures for approximately 14 weeks of 2021, Greene King still managed to raise a record £2.21m for Macmillan in 2021. Greene King's continued support has never been more critical as the UK cancer care services slowly recover from the devastating blow caused by coronavirus and nurses remain under immense pressure.