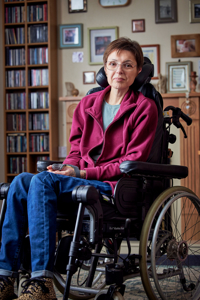 ---
Disability Energy Support - Credit Meter Fuel Voucher Scheme
UK Power Networks
---
Client: Scope

Disabled people are some of the most impacted by the Cost of Living crisis. Scope research shows they face extra monthly costs of nearly £600.
As a result, more people are falling behind on payments and face impossible decisions everyday. Many are being forced to make choices such as turning off assistive medical equipment to save electricity, not eating for days to afford their heating and leaving longer periods between showers. Decisions made just so they can afford their increased energy and everyday living costs.
Customers needed more help than ever before and it needed to be targeted, immediate and deliver real impact. In partnership with UK Power Networks, we set up the Credit Meter Fuel Voucher Scheme. The scheme offers customers of Scope's Disability Energy Support service an £80 voucher towards their energy bill, whilst they receive longer term support from an expert adviser.
Since the scheme began, 80% of those receiving the voucher have reported a positive impact on their mental health and wellbeing as a result.
The scheme has allowed us to proactively support disabled customers who are in arrears, at risk of falling into arrears and those who require extra energy due to their medical condition.