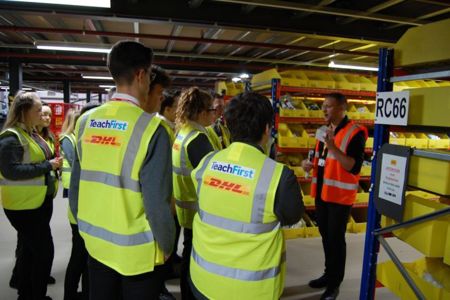 ---
DHL UK FOUNDATION AND TEACH FIRST - TACKLING EDUCATIONAL INEQUALITY
DHL UK Foundation
---
Agency: Charity partner: Teach First

DHL UK Foundation and Teach First are united in their aim to build a fair education for all. We have worked together in partnership to unlock the potential in young people from disadvantaged backgrounds across England since 2015.
DHL UK Foundation's generous donations to Teach First have totalled £1.23 million. This has trained great teachers, developed brilliant leaders, and helped schools serving the UK's poorest communities to thrive. Passionate and talented DHL colleagues have delivered careers and employability activities to thousands of pupils from Teach First partner schools. Many have used their professional experience to coach teachers, helping them navigate challenges in their school. In the last year, we collaborated to tackle the digital divide, delivering laptops and internet data to schools who desperately needed support with home learning during the pandemic.
We set out six years ago to build a fair education for all. Our partnership activity has evolved and grown since, but our core objective is unwavering: tackling educational inequality and preparing young people for the world of work. In the last year alone, we have supported around 24,000 pupils and engaged over 150 DHL colleagues in the partnership.