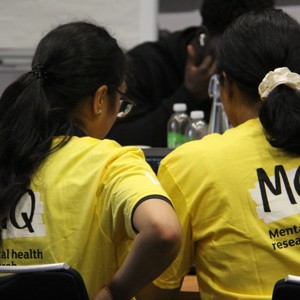 ---
Deutsche Bank's UK Charity of the Year 2022-2023
Deutsche Bank
---
Client: MQ Mental Health Research

MQ Mental Health Research was chosen by Deutsche Bank employees to be its UK Charity of the Year 2022-2023.
1 in 4 people are affected by mental illness every year, yet funding for this health crisis falls woefully short, with just £9 spent on research per person affected. MQ and Deutsche Bank are working in partnership to change this status quo and transform the face of mental health by raising funds to invest cutting-edge mental health research, while also building the capacity of the charity through pro-bono support.
The first year of partnership has proved transformative, exceeding targets and engaging employees from across the bank with a range of fundraising, volunteering, and strategic opportunities. In 2022, over £1.1 million was raised through an innovative calendar of events, while initiatives like the 24-Hour Global Hackathon saw employees sharing their skills and expertise with MQ to help take research projects out of the lab and into practise.
The bank's support has been instrumental in enabling MQ to achieve financial sustainability for the first time in its history, and has already secured long-term impact and a legacy for both MQ and the mental health research sector as a whole.