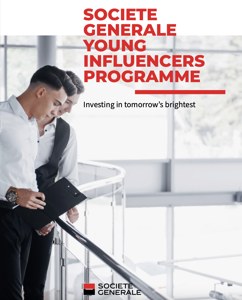 ---
CSR Team
Societe Generale
---
Client: Shelter, Clubhouse Gibraltar, East London Business Alliance (ELBA), Newham College, Newham Collegiate Sixth Form, St Edward's CoE Academy, Jersey Women's Refuge (JWR), Guernsey's Rural Occupational Workshop Ltd (GROW Ltd)

CSR is a fundamental part of the SG culture. It's at the heart of our employee engagement programme and embodies our core values 'Innovation', 'Responsibility', 'Commitment' and 'Team Spirit'. Our belief is that everyone should have equal access to career opportunities and to reach their potential.
Recognising this we launched an updated CSR strategy in 2020, aimed at making the banking sector more accessible to people who are under-represented in financial services. Underpinning this and despite the pandemic backdrop, we launched two high-profile programmes – our flagship volunteering initiative, the Young Influencers Programme aimed at building employability skills for young people, and four new fundraising partnerships representing the different geographies we cover.
These programmes are designed against clear impact metrics to ensure we capture our societal impact. They also mark a step-change in how the CSR team and its role is viewed internally, as we are now positioned as a strategic pillar to SG's business objectives.
As an energetic team of two we're constantly striving for ways to leverage our relationships, bring about change and increase our social impact. And we also lead by example, regularly rolling up our sleeves to get involved and championing each initiative we implement.