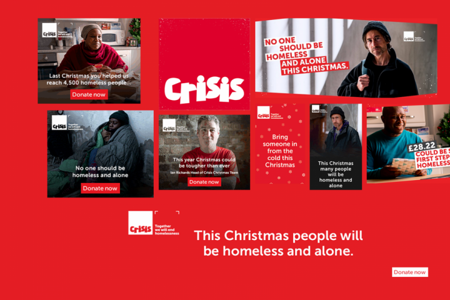 ---
CRISIS AT CHRISTMAS 2020
Uprise Up & Catalyst
---
Agency: Charity partner: Crisis

Crisis provides vital support to homeless people in the UK, with a vision to end homelessness for good. Catalyst and Uprise Up were eager to support Crisis with their 2020 Christmas campaign, as the added risks of the coronavirus pandemic made supporting homeless people through the winter more critical than ever.
Catalyst and upriseUP delivered an omnichannel digital advertising campaign for Crisis, which exceeded its goals, raising over £6,100,000 in revenue from over 97,000 generous donations. The revenue from Catalyst and Uprise Up's campaign, which utilised paid social, paid search, and programmatic advertising, will change the lives of homeless people across the UK.
Despite the difficult circumstances during the pandemic and the increasingly competitive online environment for charities at Christmas, the campaign's average gift value of £63 exceeded Crisis' target of £43.50 and outshone even 2019's average of £46. CPA was reduced from £18 in 2019 to just £6 in 2020 - well below the target of £19. The campaign achieved a ROAS of 10, up from 3 in 2019.
The campaign's success relied on Catalyst and Uprise Up's commitment to clear-cut data, which fuelled fast and informed decision-making and adaptability at a crucial time for Crisis and their beneficiaries.