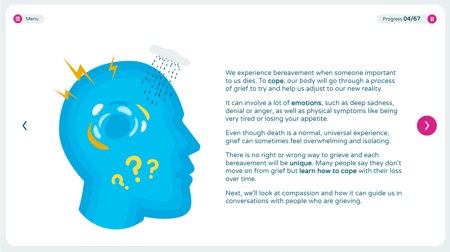 ---
Compassionate Bereavement Conversations
PwC
---
Client: Hospice UK

Talking about death, dying and bereavement at work is hard.
In partnership, PwC and Hospice UK have created the Compassionate Bereavement Conversations tool.
A digital, e-learning tool designed to offer practical and meaningful support to anyone who wants the skills and confidence to have, what can be, challenging conversations relating to bereavement with their colleagues.
This tool provides an innovative training solution for time-poor, and geographically diverse organisations in the post-pandemic hybrid environment.