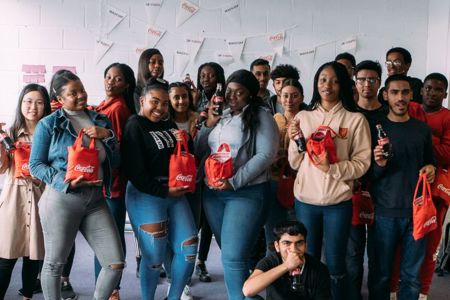 ---
COCA-COLA EUROPEAN PARTNERS AND UK YOUTH: REACH UP
Coca-Cola European Partners
---
Agency: Charity partner: UK Youth

Coca-Cola European Partners (CCEP) has been working with leading youth charity UK Youth since 2018 to empower young people with the confidence, skills and experience to help them feel workplace ready.
Since 2018, over 260 CCEP volunteers have given more than 1600 hours to support the partnership's flagship employability programme, Reach Up, which has supported more than 300 young people between the ages of 16 and 25 who are not in employment, education or training (NEET), or at risk of becoming NEET.
UK Youth's 'theory of change' is part of the fabric of the collaboration and is underpinned by three key areas impacting young people's work readiness: confidence, skills and relevant experience. This, in tandem with CCEP's commitment to support young people who face barriers into the world of work, means that the partnership has strengthened year-on-year to positively impact more than 300 people's lives, and to elevate the issue of youth unemployment on the national and political agenda.
Despite the global pandemic, CCEP has worked tirelessly to further leverage the work of UK Youth to achieve cross-organisational benefits, and, most importantly, to maintain meaningful interactions with young people at a time when it is needed more than ever.