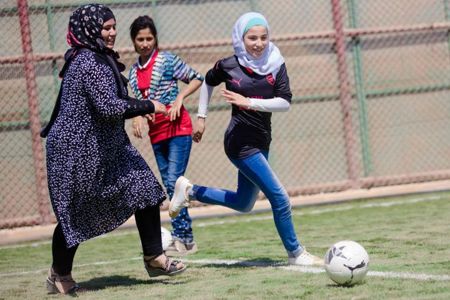 ---
COACHING FOR LIFE
The Arsenal Foundation
---
Agency: Charity partner: Save the Children UK

Since 2011, The Arsenal Foundation and Save the Children have been using the power of football to improve children's wellbeing. We're supporting children to build their resilience in the toughest of circumstances, and giving them the tools to influence decisions that affect them.
In 2018, we co-created a ground-breaking programme, Coaching for Life, which supports children affected by conflict, violence, and poverty in Zaatari Refugee Camp (Jordan), and Jakarta (Indonesia).
It harnesses 100 years of Save the Children's child protection and psycho-social expertise and 34 years of Arsenal in the Community's sports for development experience. Our aim is to create change for children by improving their physical, emotional, and mental wellbeing, by delivering our 20-week football resilience programme to 3,260 children over three years (with an equal gender split).
We amplify children's voices to influence change globally and locally on issues of importance to them: including girls participation, child marriage, child labour, and the impacts of conflict.
Arsenal and Save the Children are proud of our combined impact; from research that led us to co-create Coaching for Life, to the programme's inception, and the ongoing programme cycles, both partners benefit hugely from learning about football's power in child development.