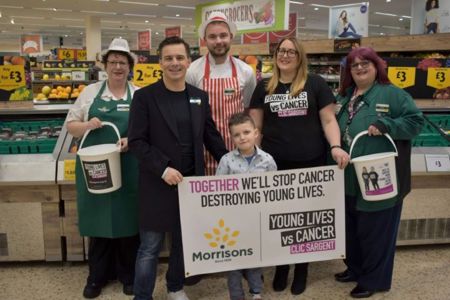 ---
CLIC SARGENT AND MORRISONS PARTNERSHIP
Morrisons
---
Agency: Charity partner: CLIC Sargent

Since Morrisons and CLIC Sargent's partnership began in 2017, we have been working together to provide better quality support for young cancer patients and their families.
Thanks to the strong engagement of Morrisons colleagues and suppliers, £14 million has been raised in just four years. We are about to enter the fifth and final year of our partnership, and are striving to hit £16 million. All money raised in the last year of our partnership will fund the opening of a new CLIC Sargent Home from Home in Manchester, and its running costs for five years.
The partnership has continued to grow in strength and adapt to the challenges brought about by Covid-19. Even with events being cancelled and colleague fundraising being limited, the partnership raised £2.9 million in 2020. This is a testament to the strong engagement between Morrisons colleagues and CLIC Sargent's cause.
In four years, the partnership has made lasting, fundamental improvements to the ways CLIC Sargent is able to support young lives affected by cancer. The new Home from Home that Morrisons are funding will benefit families for years to come.