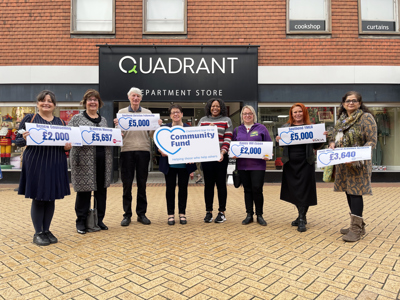 ---
Chelmsford Star Co-op Community Fund
Quadrant Department Stores
---
Client: Essex Community Foundation

A new grant-giving fund was recently created by Essex-based independent co-operative, Chelmsford Star, with those benefiting chosen by representatives from the members (co-op customers) using its retail businesses.
If offers grants of between £1.5k to £5k regularly throughout the year to charitable causes, voluntary groups or neighbourhood projects in the area. The Community Fund is managed by Essex Community Foundation.
Chelmsford Star Co-op has supported and invested into local causes for over 150 years through its various shops and stores, but rarely shouts about it. In previous years it has thrown all of its support behind one single charity each year, or shared out small donations to hundreds of charities all at once. When the UK was locked-down in 2020, it split its fundraising between six Essex food-banks and was pleased how much it benefited each of them. This led to a rethink as to how best assist Essex-based causes moving forward and so the Community Fund was born. Its tagline: helping those who help others.
In December 2021, the first round of payments were issued, with six local but unique causes receiving approx. £25k betweem them, The fund is self-perpetuating so more cheques will be issued in March 2022.