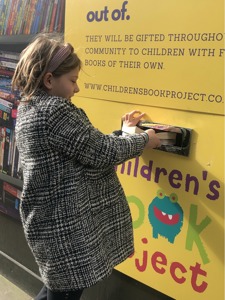 ---
Building Futures
Wates Group
---
Client: Children's Book Project

The Children's Book Project is a grassroots charity that takes donations of pre-loved books, sorts them to ensure their relevance and then gifts them to children living in the most challenging circumstances. In doing so they raise young people's aspirations, build their self esteem and crucially, enable every child to escape into a book they have chosen themselves.
In 2020 Wates Group initiated a pilot to facilitate donations of books for the Children's Book Project, using the hoarding of a key London construction site to promote the charity's work and provide a drop-point for book buying families. This unique and unprecedented use of an organisation's physical resources has: - Raised local awareness of book poverty and the charity's mission - Provided the public with a visible and easily accessed means of giving - Supported cyclical giving across communities with disparate means - Celebrated the means by which one child can positively impact another.
Two years on, Wates Group is committed to tackling book poverty and improving children's outcomes. Six construction sites feature donation points, and a further fifteen are planned for 2022, with 80k book donations forecast this year, representing 30% of the charity's overall gifting ambitions.