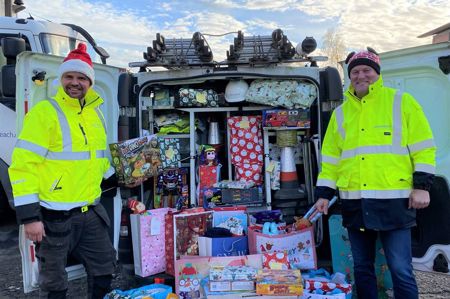 ---
BT Festive Give
BT Group (BT, EE, Plusnet and Openreach)
---
Client: Home-Start UK

The aim of BT Festive Give was to spread some Christmas magic at a difficult time for parents and to connect for good with families in local communities.
It was the first large scale project between BT Group (BT, EE, Plusnet and Openreach) and national family support charity Home-Start UK, to provide BT colleagues with an opportunity for fundraising and volunteering in the areas where they live and work.
It was also the perfect chance to highlight our new partnership and raise awareness about the work of Home-Start UK.
The overwhelming response to BT Festive Give was 30,000 beautifully wrapped children's gifts which were distributed by BT "elves" to more than 9,500 families who are supported by more than 112 local Home-Starts.
In addition, some BT sites hosted Christmas parties for families, while some also provided food vouchers, Christmas trees and decorations.
The campaign was nothing short of incredible and gave families a real boost at a time when we know parents are struggling to manage tight budgets.
The many thank you messages from Home-Start families to BT colleagues said it all: "You brought a smile to the faces of children."