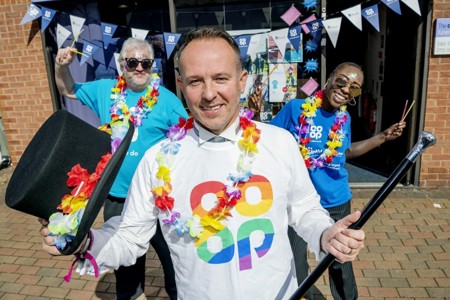 ---
Bringing Communities together to Improve Mental Wellbeing
The Co-op
---
Client: Mind, SAMH (Scottish Association for Mental Health) and Inspire

Co-op is partnering with Mind, SAMH (Scottish Association for Mental Health) and Inspire to raise £8m to bring communities together to improve mental wellbeing.
Co-op colleagues have raised a phenomenal £4m in 2021, bringing the total fundraising for our partnership to almost £7m since October 2019.
Now more than ever, we must support the wellbeing of our communities. 1 in 3 people in the UK say they don't have the support or tools to deal with the 'ups and downs of life', with 8 in 10 (81%) of those saying that support in the community such as having spaces to talk, activities and services would help them.
Our partnership is responding directly to that need, funding more than 50 new mental wellbeing services across the UK that have already supported over 8,000 people to improve their mental wellbeing.
We have worked closely with Co-op, ensuring all planning and delivery is collaborative across the four nations to ensure the charities are visible in all parts of the business and mental wellbeing is positioned as important now and in the future.
Working together nationally, Co-op, Mind, SAMH and Inspire have created meaningful lasting change for people in local communities across the UK.